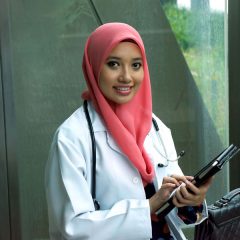 Freelancers and professionals typically have quite busy schedules, because everything must be conducted by themselves, including financial management. Hectic schedule and high mobility usually prevent freelancers and professionals from taking notes manually. This will result in missed financial transactions and inability to know exactly how much income and expenses they make.
AKUN.biz is here to overcome problems often faced by freelancers and professional workers. In Cash Book feature, users can create several debit or credit categories that can be appropriated based on needs. Users can also take notes anywhere and anytime because AKUN.biz can be accessed via web on laptops and also by using the application in your smart phone.
Even when travelling and meeting with clients, users can still take notes of their finance. Cash Book feature is also provided with cash in and cash out records. When there is a cash in, you can just enter it in the debit section; whereas, if there is a cash out, you can enter it in the credit section. Users can also added other debit and credit sections as needed.
Most freelancers and professional workers usually have receivables that are difficult to get or even forgotten, and they are unable to monitor how much money has been used to pay them off and the rest of their receivables.
Payable and Receivable Book from AKUN.biz will help sorting out the hassle of managing unsettled invoices. By entering inputs in the accounts payable and receivable, users will be aware of payable /receivable transaction history, from the amount of payables/receivables, due dates, and can also analyze when to collect the money to the clients.
Debt collecting process sometimes is a hassle. Many are reluctant to directly collect the payment. Through AKUN.biz, freelancers and professional workers can create their own e-invoice that can be downloaded and sent to clients as email attachment. Thus, debt collecting process can be more seamless and professional.
AKUN.biz is also supported with daily, monthly, and annual report feature that can support the process of monitoring and analyzing cash debit and credit activities.
If there are assistants who take care of financial record, by using multi account feature from AKUN.biz, freelancers, doctors, architects, and other professional workers can add more users to input data. Users can select the appropriate roles for these additional users, such as managers, supervisors, writers, read only, and custom. Each additional user has limited right of access depending on needs to guarantee safety of financial privacy.
AKUN.biz also provides online note feature. You can write down schedules to meet clients or your inspirations and ideas that can improve your work. This note taking feature is practical because you can save and access it anywhere and anytime.