Debt and credit feature on AKUN.biz enables you to delete debt and credit history that you have done. As we all know, debt and credit transactions are so important. That is why you should be careful in deleting these debt and credit transactions because it will influence your cash book bookkeeping. Deletion can and normally done when you are sure that those transactions have been paid.
How To Delete And To Edit Debt At Desktop Browser?
To record debt deleting history, please choose and click 'magnify' button, then it will appear a page containing details from the chosen debt and credit:

After it opened, please see the top left part, under the writing 'start date' and 'start balance'. There is a small box button with pencil drawing, then click it. Then it will appear below picture:

Please notice, there will be few commands, and one of them is 'DELETE'. Click the button and then click 'YES'.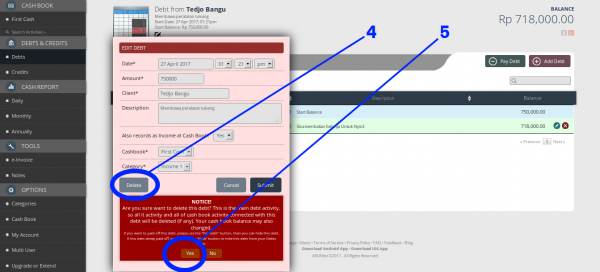 How To Delete Credit at Desktop Browser
For 'editing' part it's quite the same. The difference is on the 4 th and 5th part. If you're editing, then the next move chosen is by filling the column you're about to edit. After it, please click 'submit' button.
Above steps also applied for credit deletion. The difference is on the first step which is the navigation selection of 'debt' is being changed to 'credit' navigation.
How to Edit and Re Edit Debt/Credit via Smart Phone
Editing as well as deleting debt and credit via smart phone is actually the same as when you're using computer browser. Please see debt or credit transaction, then click 'magnify' button which it will appear 'edit' icon in the detail debt and credit page.
Please use the 'edit' icon to change early debt and credit data, or you can also use 'delete' button which will appear on pop-up to delete and to cancel those debts and credits.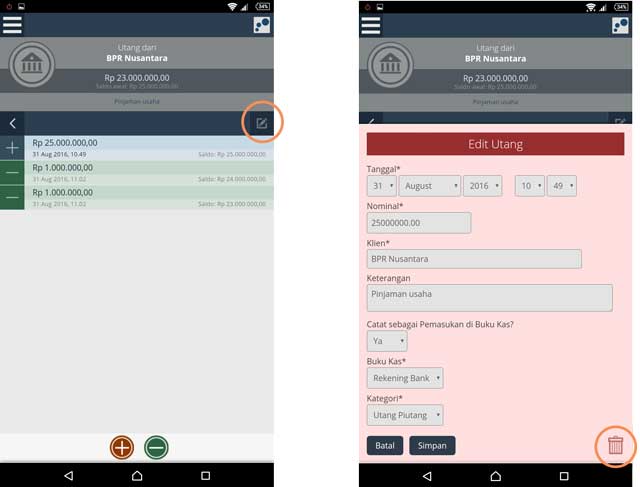 Notes:
When editing debts and credits, if you previously record debt and credit early transaction in the Cash Book, then all transactions in the Cash Book will be changed also.
When deleting debts and credits, all adding and decreasing activities will be deleted also. All transactions in Cash Book that are related to debt and credit will also be deleted. If debt and credit are already paid and you want to erase them from the list, you don't need to erase them, but you can just hide them ( see the explanation here).