E-Invoice Tool
You can create PDF invoice online. The invoice can be downloaded or send directly to customer as an email attachment. You can also save and manage those created invoices on Invoice Book.
You can find 'e-invoice' link in the below part of Tool group menu at AKUN.biz online application. E- invoice is an online tool which enables you to create PDF invoice in fast. You can download or send it to customer/ client as email attachment. We also provide an Invoice Book to save and to manage invoice you have created before.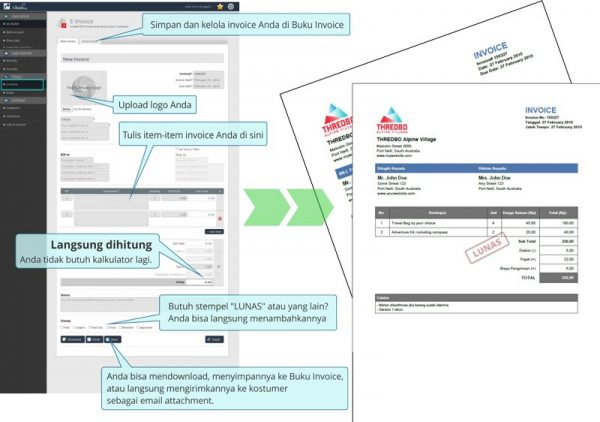 How to Create e-Invoice:
Please see and hover menu in the left side, then choose "e-Invoice"
Choose "Create e-Invoice"
Upload your company logo
Enter data to whom this e-invoice will be
Write invoice items on the description
You can also calculate (tax, discount, and sending cost) by ticking on the right side Remarks
Total will be automatically calculated
If you need to add 'PAID' stamp, or other, you can tick on 'STAMP' part.
You can download and save it in Invoice Book or you can send it directly to customer as an email attachment.
How to Send e-Invoice via Email :
After created e-invoice, choose Email
Enter name and email address
Write email content
Choose send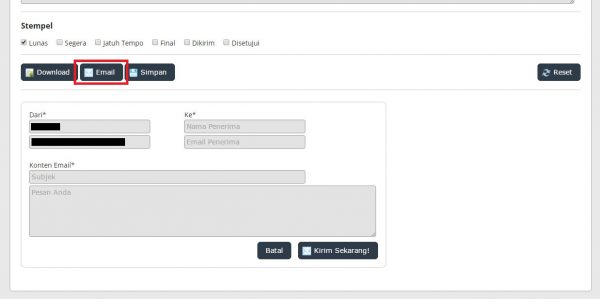 How to Save e-Invoice:
After created e-invoice, please choose 'save'
If it's succeed, then it will appear ' invoice is saved' (see below picture)

Check the e-invoice you have saved in e-Invoice Book

How to Edit Or Delete E-Invoice:
To edit e-invoice, choose Invoice Book
Choose 'edit' icon to edit invoice , and 'X' icon to delete invoice
After finish editing, please click 'save' or 'email' to send the e-invoice via email
Limit For Standard And Premium User:
There are limits in downloading, sending and saving e-invoice
E-Invoice Download Limit:
For standard user, download invoice can only be done 5x a day
For premium user, there is no limit in downloading e-invoice
E-invoice E-Invoice Sending Limit:
For standard user, you can cannot send e-invoice by email
For premium user, there is no limit in sending e-invoice by email
or premium user, there is no limit in saving e-invoice
E-Invoice Saving Limit:
For standard user, you cannot saving e-invoice
For premium user, there is no limit in saving e-invoice