One of advantages of AKUN.biz is multi cashbooks. With this feature, you can create several cash books at once to manage your finance. Every cash book represents each 'money box' that you have. For example, if you normally keep your money in three places, such as office cash ( cash money), Mandiri account and BCA account, then you can create three cash books as well (Office Cash, Mandiri and BCA), where every cash book contains bookkeeping of each money box.
Creating Cash Book
Cash book can be managed through "Setting Menu »» Cash book". To create cash book, click + button.
Then fill the Cash Book's name, Description (optional), and First Balance ( if there's any ) to the available column, and then click 'save'
Main and Additional Cash Book
Main cash book is the first created cash book when you make cash book at AKUN.biz. This is the cash book that will be your prime financial record..
Additional cash book is cash book you can add according to your need.
You can also change Additional Cash Book into Main Cash Book, and vice versa. You just need to click 'V' sign on the below part of the additional cash book.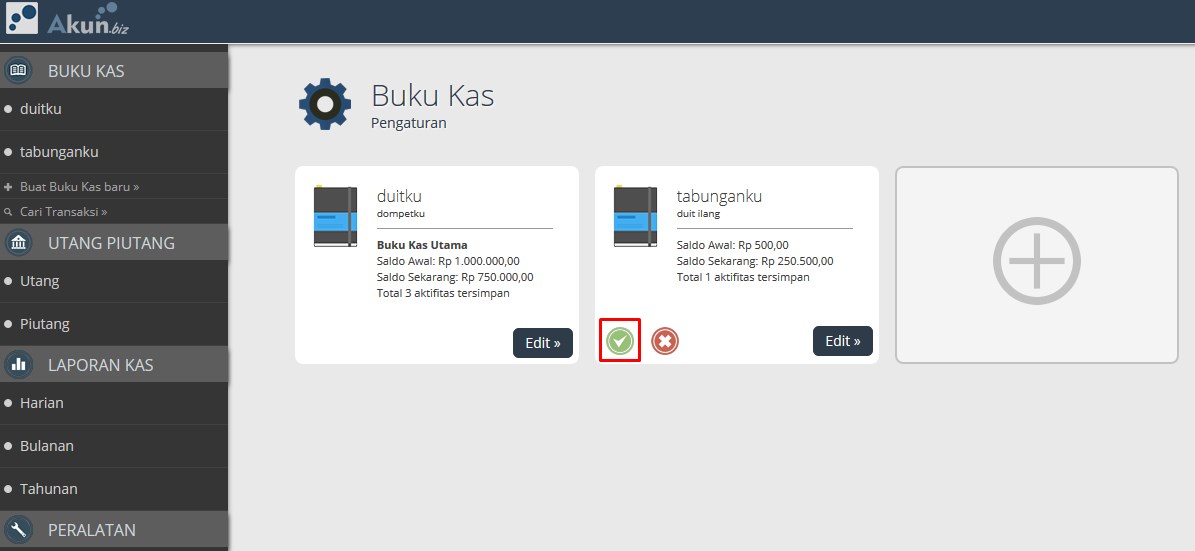 Editing cash book
To edit or change information on you cash book, you can click 'edit' button which available in every cash book.
Edit/change information according to your need, and then click 'save' for saving it.
If you change or edit your first balance cash book, then automatically all you balance will also change along with it.
Deleting Cash Book
To delete unnecessary cash book, click 'X' button in cash book box (you can delete additional cash book only). If you want to delete main cash book, then follow the steps to change main cash book above.
Be careful! When you delete cash book, all transactions in the category will be gone and cannot be returned. Recheck your cash book and make sure you are not wrong in making decision.