The Differenciate Standard and Premium User
AKUN.biz has 2 types of users; they are Standard and Premium User.
Standard user is free, but there some features that can't be used. While for premium user, they are free to use all available features.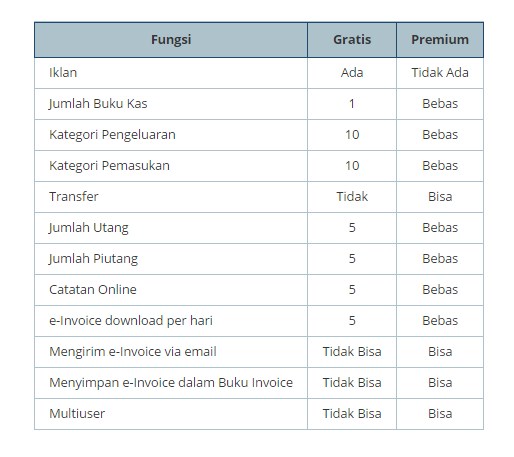 Every STANDARD user can do upgrade to become PREMIUM with subscribe system. Please go to 'PREMIUM' page on the app to see in detail how to upgrade into PREMIUM. We provide several payment methods, such as bank transfer, PayPal/credit card for browser version and in App purchase for mobile version.
Price for every payment methods are different depends on how much commission we need to pay to the method payment provider. You are free to decide the cheapest or the most suitable payment method for you.
Below is the price list for PREMIUM upgrade: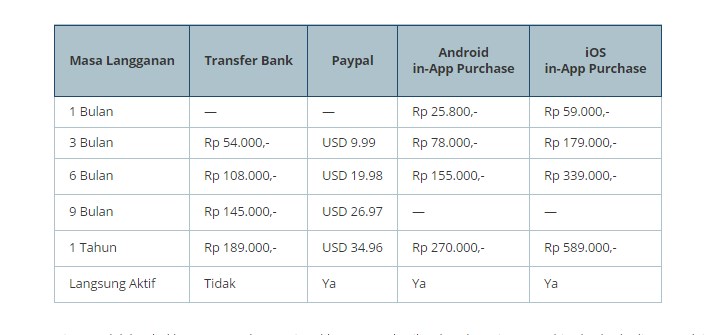 Above table is the price table for special premium upgrade for Indonesia. Price can be vary for different country, depends on the currency and tax applied on each country.
What Happen If You Don't Extend The Premium Subscription?
You will still able to access all financial data. All transaction data on the additional cashbook you have made will not be erased. Additional categories are still able to be used. If you have created additional users, those users will also still exist.
But the facility you will regain will return as Standard User. This means:
Additional cashbook which already created will become read-only (unless for your main/ first cashbook). You still able to access the data but you cannot add any transaction in the additional cashbook.
All additional users will still exist but they can't log in to you account anymore.
Notes:

Notes Further upon upgrading or extending steps of AKUN.biz PREMIUM version, please go to next page "Upgrade and Extend Premium"